Class A
Bounder
Break free from boundaries.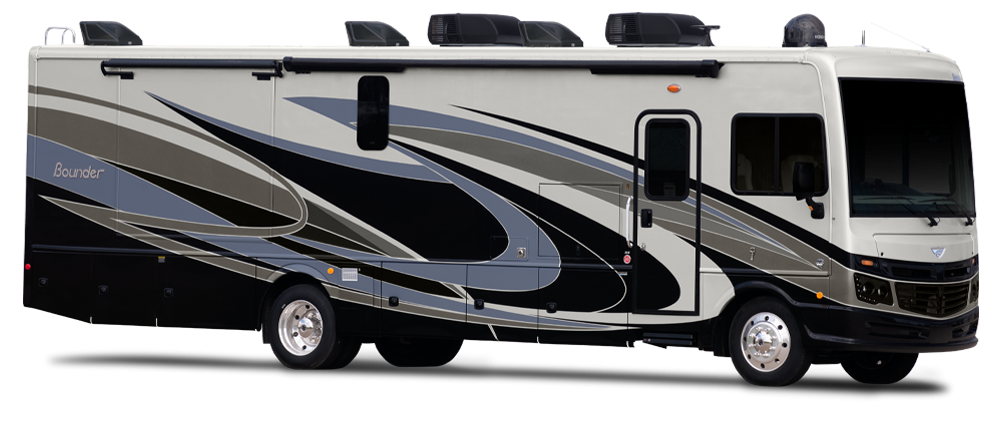 Break free from boundaries.
There's a lot to brag about when you're the best-selling motorhome of all -time—which is just what Bounder is. With five floorplans, you can have bunkbeds, a Jack and Jill bath, a second bath or even 36 more square feet of patio space with the Extended Living Edition. Plus, you get Fleetwood's exclusive Power Platform™ chassis and an automotive-style dash with dual monitors.
But just because Bounder is the champion of the RV world doesn't mean it's content to live on a legacy. For 2020, we've added as standard WiFiRangerTM Sky4 DC, a 7-inch touch-screen systems control panel and a 100w solar panel. Or, you can upgrade to a 265w panel.
For more than 30 years, Bounder has been a legend. Come be a part of it.
Ford F-53 Motorhome Chassis

Front suspension: Tapered Multi-Leaf:

Rear suspension: Tapered Multi-Leaf:

Power - 4 Wheel Disc (Hydro-boost) w/ABS:

Shock Absorbers - Bilstein™ 1.63-in. diameter:

Stabilizer Bar Front & Rear:

Front and Rear Aluminum Wheels:

Sumo Springs - Front/Rear:

Ford 6.8L Triton V10, 320 HP w/460 lb. Torque:

TorqShift® 6-Speed Automatic w/Overdrive and Tow/Haul Mode:

6V Heavy Duty Chassis Batteries:

Interior Storage (cu.ft.):

Basement Storage (cu.ft.):

Appliance Propane (gal) (WC):

Aluminum Welded Interlocking Frames:

Powerlock System - Interlocking Floor, Walls and Roof:

Dryseal Edge Coating for all Walls and Floors:

Vacu-Bond Aluminum Framed Constructed Roof, Sidewalls and Floor:

Premium Gel Exterior Vetrosina Fiberglass Skin (no wood substrate):

R-8 Insulated Sidewalls; R-10 Insulated Roof and R-9 Insulated Floor/Bead Foam Insulation:

Quiet Insulated, Ducted A/C System:

Full Pass Through Basement Storage w/Easy Clean Rotocast Compartments:

Basement Storage Lighting w/Master Switch:

Heated Fresh Water and Holding Tank Compartments:

Power Platform Chassis Construction:

Steel Constructed Entry Step Box:

Electric Main/Bedroom/Wardrobe/Kitchen Slide Out Systems:

Powder Coated Steel Frame Chassis Construction:

Full Coverage Heavy Duty Undercoating:

Aerodynamic Fiberglass Cap w/Automotive Headlighting:

Rear Fiberglass Cap w/Automotive Lighting:

TPO Roof - Thermoplastic Polyolefin :

Legless Electric Patio Awning w/LED lighting and Wind Sensor Retract:

Slide Out Awning Toppers Above All Slideouts:

Radiused Entry Door w/Screendoor, Latch, Deadbolt Lock:

Black Luggage Door Handles:

Entry Grab Handle - Acrylic Lighted:

Power Entry Step w/Light Exterior :

Bus-Style Luggage Doors Side Swing Aluminum :

Frameless Dual Pane Windows :

Front, Side and Rear Clearance and Marker lighting:

Gravity Fresh Water Fill:

Service Station - Water Pump Switch, Exterior Shower, Black Tank Flush, City Water Hookup & Drainage Valves:

Park Cable and Satellite Hookup Exterior :

Trailer Hitch w/7-Way Round Tow Connection (lbs.):

TV Antenna - Unidirectional King Controls Jack Antenna:

Four Point Fully Automatic Hydraulic Leveling Jacks:

4-Color Premier Full Body Paint w/Front Clear Mask:

King Universal Satellite System:

Automotive Windshield One-Piece :

Driver/Passenger Tinted Slider Windows:

Automotive Style Windshield Wiper System:

Remote Power/Heated Mirrors w/Turn Signals and Side Cameras - Black:

Driver Chair w/Reclining Back, Swivel and 6-way Power Controls:

Passenger Chair w/Manual Footrest, Reclining Back & Swivel:

Driver/Passenger ABS Style Armrests:

Driver/Passenger Cupholders :

Power Windshield Roller Shade:

Driver/Passenger Window Manual Roller Shades:

Driver/Passenger Overhead Map Flex Lighting:

Black Instrument Gauges w/Electronic Information Center:

Dash Air Conditioning and Heat High Output :

Cruise Control Electronic :

Windshield Wipers w/Delay:

Remote Switch for Power/Heated Mirrors:

Steering Wheel w/Tilt Column:

Color Monitor for Side and Rear Cameras - 6" :

Kenwood® 6.2" Stereo w/AM/FM/CD/DVD/Bluetooth/ MP3/USB - Phone Control - Android Rapid Charge - Built in HD Radio – Pandora - Spotify – iHeart radio - Sirius/XM Ready (Requires Subscription) Wireless Music Browsing – Dual Phone Connection – Remote App – Backup camera – Variable Color Illumination:

Collision Mitigation w/6.95" Kenwood® Motorized Tilt Touch Screen Stereo w/AM/FM/CD/DVD/Bluetooth/ MP3/USB - Remote Control - Phone Control - Siri Eyes Free - Android Auto & Apple® Car Play w/Navigation - Android Rapid Charge - Built in HD Radio - Wireless Music Browsing - Pandora - Spotify - Sirius/XM Ready (Requires Subscription) :

Kenwood® Radio Speakers - 6 1/2" :

Sirius/XM Satellite Radio Ready (Requires Subscription):

USB and Auxiliary Inputs:

Seat Belts Driver & Passenger - 3 Point w/Adjustable Straps:

Automotive Style Dash w/Dual Monitors and Work Station:

Pullout Storage Bin Center Dash :

Colored Fiberglass Engine Cover w/Snack Tray:

Auto Leveling Jacks Controls:

Driver/Passenger Center Table:

Hide-A-LoftTM Drop Down Queen Bed w/24" TV:

Sofa - Expandable L-Sofa:

Sofa - Tri-fold w/Facing Booth Dinette w/Dream Dinette:

Sofa - Expandable L-Sofa and Free-Standing Dinette w/Credenza:

Facing Booth Dinette w/Dream Dinette Table:

Free Standing Dinette w/Credenza:

Solid Surface Galley Top:

Surf-X Tops Throughout (Excluding Galley):

Feature Wall w/Accent Wall Covering:

Interior Flat Soft Touch Vinyl Ceiling:

Vinyl Tile Flooring Throughout:

Ozite Lined Cabinet Interiors:

Cedar Lined Wardrobe Interiors (Select Locations):

Full Extension Drawer Guides w/Latches Throughout:

Hidden Euro Hinges and Struts:

Panel Cabinet Doors Solid Wood Raised :

Ceiling Treatment Solid Wood :

Slideout Fascia - Interior Wood Color Coordinating :

Window Valances w/Lambrequins and Wood Accents:

Manual Day/Night Roller Shades:

Energy Efficient 3" LED Flush Mount Ceiling and Under Cabinet Reading Lights Throughout:

Slideouts Flush Floor Living :

Faucets, Fixtures and Hardware, Brushed Nickle :

Interior Entry Grab Handle - Metal:

Multiplex Electric Controls w/App Control:

Entry Door Manual Roller Shade:

Solid Surface Entry Steps w/Lighted Stepwell:

Residential Refrigerator - Stainless Steel French Door Style w/Icemaker - Samsung:

Cooktop w/Solid Surface Covers 3-Burner :

Range w/Oven 3-Burner Drop-In :

Microwave Stainless Steel Over the Range Convection :

Large Galley Window w/Tiled Window Box:

Deep Double Bowl Undermount Stainless Steel Sink:

Solid Surface Sink Covers:

Faucet w/Pullout Sprayer Residential Single Handle :

Adjustable Shelves Throughout:

Power Ceiling Vent - Fantastic:

Manual Night Roller Shade:

King Memory Foam Mattress:

Bunk Beds (Mutli-purpose Flip Bunk for Wardrobe and Seating w/Doors):

Designer Bedspread, Headboard, Pillow Shams & Pillows:

C-PAP Machine Prep in Bedroom Overhead:

Top Mounted Porcelain Sink:

Top Mounted Stainless Steel Sink:

Single Handle Residential Faucet:

Medicine Cabinet w/Mirror:

Fiberglass Shower Surround:

Metal Shower Head w/Sliding Adjustable Bar, Soap Dish and Matching Single Valve Faucet:

Porcelain Macerator Toilet:

Porcelain VacuFlush Toilet:

Porcelain Standard Toilet:

Power Ceiling Vent - Fantastic:

40″ Flat Screen LED TV (Living Area):

32″ Flat Screen LED TV (Bedroom):

24″ Flat Screen LED TV (Bedroom):

24″ Flat Screen LED TV (Bunk Area):

24" Flat Screen LED TV (Front Overhead w/Hide-A-LoftTM Drop Down Bed):

Soundbar w/Blu-RayTM Player:

Exterior Entertainment Center w/40" LED TV, AM/FM/CD/DVD/BT, and Two Speakers:

Dual-Roof Mount Ducted 15,000-BTU A/C Units w/Chill Grill and Rear Heat Pump:

30,000/20,000 BTU Furnace :

Converter: 60 AMP Power Converter:

Inverter: Single 2000w Pure Sine:

WiFi RangerTM SkyPro Pack w/LTE and GPS:

Multiplex Wiring Control System w/7" Touchscreen Panel and App Control:

Auxiliary Batteries (4) 6V :

Battery Disconnect Switch Master :

Water Pump: 12V 3GPM High Capacity Shurflo Water Pump:

Water Pump: 12V 5.3GPM High Capacity AquaJet Water Pump:

Water Purification System (Whole Coach):

Water Heater Bypass System:

Cable TV/Satellite Hookup:

Black Holding Tank Flush System - San-T-Flush:

Single Location Monitor Panel w/LPG, Touch Sensor Tank Monitoring and Battery Readouts:

Fire Extinguisher, LP/CO and Smoke Detectors:

GFCI Receptacle in Exterior Storage:

Washer/Dryer Prep Combo :

Water Heater Bypass System:

50 AMP Shoreline Power Cord:

Ford F-53 Motorhome Chassis

Front suspension: Tapered Multi-Leaf:

Rear suspension: Tapered Multi-Leaf:

Power - 4 Wheel Disc (Hydro-boost) w/ABS:

Shock Absorbers - Bilstein™ 1.63-in. diameter:

Stabilizer Bar Front & Rear:

Front and Rear Aluminum Wheels:

Sumo Springs - Front/Rear:

Ford 6.8L Triton V10, 320 HP w/460 lb. Torque:

TorqShift® 6-Speed Automatic w/Overdrive and Tow/Haul Mode:

6V Heavy Duty Chassis Batteries:

Interior Storage (cu.ft.):

Basement Storage (cu.ft.):

Appliance Propane (gal) (WC):

Aluminum Welded Interlocking Frames:

Powerlock System - Interlocking Floor, Walls and Roof:

Dryseal Edge Coating for all Walls and Floors:

Vacu-Bond Aluminum Framed Constructed Roof, Sidewalls and Floor:

Premium Gel Exterior Vetrosina Fiberglass Skin (no wood substrate):

R-8 Insulated Sidewalls; R-10 Insulated Roof and R-9 Insulated Floor/Bead Foam Insulation:

Quiet Insulated, Ducted A/C System:

Full Pass Through Basement Storage w/Easy Clean Rotocast Compartments:

Basement Storage Lighting w/Master Switch:

Heated Fresh Water and Holding Tank Compartments:

Power Platform Chassis Construction:

Steel Constructed Entry Step Box:

Electric Main/Bedroom/Wardrobe/Kitchen Slide Out Systems:

Powder Coated Steel Frame Chassis Construction:

Full Coverage Heavy Duty Undercoating:

Aerodynamic Fiberglass Cap w/Automotive Headlighting:

Rear Fiberglass Cap w/Automotive Lighting:

TPO Roof - Thermoplastic Polyolefin :

Legless Electric Patio Awning w/LED lighting and Wind Sensor Retract:

Slide Out Awning Toppers Above All Slideouts:

Radiused Entry Door w/Screendoor, Latch, Deadbolt Lock:

Black Luggage Door Handles:

Entry Grab Handle - Acrylic Lighted:

Power Entry Step w/Light Exterior :

Bus-Style Luggage Doors Side Swing Aluminum :

Frameless Dual Pane Windows :

Front, Side and Rear Clearance and Marker lighting:

Gravity Fresh Water Fill:

Service Station - Water Pump Switch, Exterior Shower, Black Tank Flush, City Water Hookup & Drainage Valves:

Park Cable and Satellite Hookup Exterior :

Trailer Hitch w/7-Way Round Tow Connection (lbs.):

TV Antenna - Unidirectional King Controls Jack Antenna:

Four Point Fully Automatic Hydraulic Leveling Jacks:

4-Color Premier Full Body Paint w/Front Clear Mask:

King Universal Satellite System:

Automotive Windshield One-Piece :

Driver/Passenger Tinted Slider Windows:

Automotive Style Windshield Wiper System:

Remote Power/Heated Mirrors w/Turn Signals and Side Cameras - Black:

Driver Chair w/Reclining Back, Swivel and 6-way Power Controls:

Passenger Chair w/Manual Footrest, Reclining Back & Swivel:

Driver/Passenger ABS Style Armrests:

Driver/Passenger Cupholders :

Power Windshield Roller Shade:

Driver/Passenger Window Manual Roller Shades:

Driver/Passenger Overhead Map Flex Lighting:

Black Instrument Gauges w/Electronic Information Center:

Dash Air Conditioning and Heat High Output :

Cruise Control Electronic :

Windshield Wipers w/Delay:

Remote Switch for Power/Heated Mirrors:

Steering Wheel w/Tilt Column:

Color Monitor for Side and Rear Cameras - 6" :

Kenwood® 6.2" Stereo w/AM/FM/CD/DVD/Bluetooth/ MP3/USB - Phone Control - Android Rapid Charge - Built in HD Radio – Pandora - Spotify – iHeart radio - Sirius/XM Ready (Requires Subscription) Wireless Music Browsing – Dual Phone Connection – Remote App – Backup camera – Variable Color Illumination:

Collision Mitigation w/6.95" Kenwood® Motorized Tilt Touch Screen Stereo w/AM/FM/CD/DVD/Bluetooth/ MP3/USB - Remote Control - Phone Control - Siri Eyes Free - Android Auto & Apple® Car Play w/Navigation - Android Rapid Charge - Built in HD Radio - Wireless Music Browsing - Pandora - Spotify - Sirius/XM Ready (Requires Subscription) :

Kenwood® Radio Speakers - 6 1/2" :

Sirius/XM Satellite Radio Ready (Requires Subscription):

USB and Auxiliary Inputs:

Seat Belts Driver & Passenger - 3 Point w/Adjustable Straps:

Automotive Style Dash w/Dual Monitors and Work Station:

Pullout Storage Bin Center Dash :

Colored Fiberglass Engine Cover w/Snack Tray:

Auto Leveling Jacks Controls:

Driver/Passenger Center Table:

Hide-A-LoftTM Drop Down Queen Bed w/24" TV:

Sofa - Expandable L-Sofa:

Sofa - Tri-fold w/Facing Booth Dinette w/Dream Dinette:

Sofa - Expandable L-Sofa and Free-Standing Dinette w/Credenza:

Facing Booth Dinette w/Dream Dinette Table:

Free Standing Dinette w/Credenza:

Solid Surface Galley Top:

Surf-X Tops Throughout (Excluding Galley):

Feature Wall w/Accent Wall Covering:

Interior Flat Soft Touch Vinyl Ceiling:

Vinyl Tile Flooring Throughout:

Ozite Lined Cabinet Interiors:

Cedar Lined Wardrobe Interiors (Select Locations):

Full Extension Drawer Guides w/Latches Throughout:

Hidden Euro Hinges and Struts:

Panel Cabinet Doors Solid Wood Raised :

Ceiling Treatment Solid Wood :

Slideout Fascia - Interior Wood Color Coordinating :

Window Valances w/Lambrequins and Wood Accents:

Manual Day/Night Roller Shades:

Energy Efficient 3" LED Flush Mount Ceiling and Under Cabinet Reading Lights Throughout:

Slideouts Flush Floor Living :

Faucets, Fixtures and Hardware, Brushed Nickle :

Interior Entry Grab Handle - Metal:

Multiplex Electric Controls w/App Control:

Entry Door Manual Roller Shade:

Solid Surface Entry Steps w/Lighted Stepwell:

Residential Refrigerator - Stainless Steel French Door Style w/Icemaker - Samsung:

Cooktop w/Solid Surface Covers 3-Burner :

Range w/Oven 3-Burner Drop-In :

Microwave Stainless Steel Over the Range Convection :

Large Galley Window w/Tiled Window Box:

Deep Double Bowl Undermount Stainless Steel Sink:

Solid Surface Sink Covers:

Faucet w/Pullout Sprayer Residential Single Handle :

Adjustable Shelves Throughout:

Power Ceiling Vent - Fantastic:

Manual Night Roller Shade:

King Memory Foam Mattress:

Bunk Beds (Mutli-purpose Flip Bunk for Wardrobe and Seating w/Doors):

Designer Bedspread, Headboard, Pillow Shams & Pillows:

C-PAP Machine Prep in Bedroom Overhead:

Top Mounted Porcelain Sink:

Top Mounted Stainless Steel Sink:

Single Handle Residential Faucet:

Medicine Cabinet w/Mirror:

Fiberglass Shower Surround:

Metal Shower Head w/Sliding Adjustable Bar, Soap Dish and Matching Single Valve Faucet:

Porcelain Macerator Toilet:

Porcelain VacuFlush Toilet:

Porcelain Standard Toilet:

Power Ceiling Vent - Fantastic:

40″ Flat Screen LED TV (Living Area):

32″ Flat Screen LED TV (Bedroom):

24″ Flat Screen LED TV (Bedroom):

24″ Flat Screen LED TV (Bunk Area):

24" Flat Screen LED TV (Front Overhead w/Hide-A-LoftTM Drop Down Bed):

Soundbar w/Blu-RayTM Player:

Exterior Entertainment Center w/40" LED TV, AM/FM/CD/DVD/BT, and Two Speakers:

Dual-Roof Mount Ducted 15,000-BTU A/C Units w/Chill Grill and Rear Heat Pump:

30,000/20,000 BTU Furnace :

Converter: 60 AMP Power Converter:

Inverter: Single 2000w Pure Sine:

WiFi RangerTM SkyPro Pack w/LTE and GPS:

Multiplex Wiring Control System w/7" Touchscreen Panel and App Control:

Auxiliary Batteries (4) 6V :

Battery Disconnect Switch Master :

Water Pump: 12V 3GPM High Capacity Shurflo Water Pump:

Water Pump: 12V 5.3GPM High Capacity AquaJet Water Pump:

Water Purification System (Whole Coach):

Water Heater Bypass System:

Cable TV/Satellite Hookup:

Black Holding Tank Flush System - San-T-Flush:

Single Location Monitor Panel w/LPG, Touch Sensor Tank Monitoring and Battery Readouts:

Fire Extinguisher, LP/CO and Smoke Detectors:

GFCI Receptacle in Exterior Storage:

Washer/Dryer Prep Combo :

Water Heater Bypass System:

50 AMP Shoreline Power Cord:

Ford F-53 Motorhome Chassis

Front suspension: Tapered Multi-Leaf:

Rear suspension: Tapered Multi-Leaf:

Power - 4 Wheel Disc (Hydro-boost) w/ABS:

Shock Absorbers - Bilstein™ 1.63-in. diameter:

Stabilizer Bar Front & Rear:

Front and Rear Aluminum Wheels:

Sumo Springs - Front/Rear:

Ford 6.8L Triton V10, 320 HP w/460 lb. Torque:

TorqShift® 6-Speed Automatic w/Overdrive and Tow/Haul Mode:

6V Heavy Duty Chassis Batteries:

Interior Storage (cu.ft.):

Basement Storage (cu.ft.):

Appliance Propane (gal) (WC):

Aluminum Welded Interlocking Frames:

Powerlock System - Interlocking Floor, Walls and Roof:

Dryseal Edge Coating for all Walls and Floors:

Vacu-Bond Aluminum Framed Constructed Roof, Sidewalls and Floor:

Premium Gel Exterior Vetrosina Fiberglass Skin (no wood substrate):

R-8 Insulated Sidewalls; R-10 Insulated Roof and R-9 Insulated Floor/Bead Foam Insulation:

Quiet Insulated, Ducted A/C System:

Full Pass Through Basement Storage w/Easy Clean Rotocast Compartments:

Basement Storage Lighting w/Master Switch:

Heated Fresh Water and Holding Tank Compartments:

Power Platform Chassis Construction:

Steel Constructed Entry Step Box:

Electric Main/Bedroom/Wardrobe/Kitchen Slide Out Systems:

Powder Coated Steel Frame Chassis Construction:

Full Coverage Heavy Duty Undercoating:

Aerodynamic Fiberglass Cap w/Automotive Headlighting:

Rear Fiberglass Cap w/Automotive Lighting:

TPO Roof - Thermoplastic Polyolefin :

Legless Electric Patio Awning w/LED lighting and Wind Sensor Retract:

Slide Out Awning Toppers Above All Slideouts:

Radiused Entry Door w/Screendoor, Latch, Deadbolt Lock:

Black Luggage Door Handles:

Entry Grab Handle - Acrylic Lighted:

Power Entry Step w/Light Exterior :

Bus-Style Luggage Doors Side Swing Aluminum :

Frameless Dual Pane Windows :

Front, Side and Rear Clearance and Marker lighting:

Gravity Fresh Water Fill:

Service Station - Water Pump Switch, Exterior Shower, Black Tank Flush, City Water Hookup & Drainage Valves:

Park Cable and Satellite Hookup Exterior :

Trailer Hitch w/7-Way Round Tow Connection (lbs.):

TV Antenna - Unidirectional King Controls Jack Antenna:

Four Point Fully Automatic Hydraulic Leveling Jacks:

4-Color Premier Full Body Paint w/Front Clear Mask:

King Universal Satellite System:

Automotive Windshield One-Piece :

Driver/Passenger Tinted Slider Windows:

Automotive Style Windshield Wiper System:

Remote Power/Heated Mirrors w/Turn Signals and Side Cameras - Black:

Driver Chair w/Reclining Back, Swivel and 6-way Power Controls:

Passenger Chair w/Manual Footrest, Reclining Back & Swivel:

Driver/Passenger ABS Style Armrests:

Driver/Passenger Cupholders :

Power Windshield Roller Shade:

Driver/Passenger Window Manual Roller Shades:

Driver/Passenger Overhead Map Flex Lighting:

Black Instrument Gauges w/Electronic Information Center:

Dash Air Conditioning and Heat High Output :

Cruise Control Electronic :

Windshield Wipers w/Delay:

Remote Switch for Power/Heated Mirrors:

Steering Wheel w/Tilt Column:

Color Monitor for Side and Rear Cameras - 6" :

Kenwood® 6.2" Stereo w/AM/FM/CD/DVD/Bluetooth/ MP3/USB - Phone Control - Android Rapid Charge - Built in HD Radio – Pandora - Spotify – iHeart radio - Sirius/XM Ready (Requires Subscription) Wireless Music Browsing – Dual Phone Connection – Remote App – Backup camera – Variable Color Illumination:

Collision Mitigation w/6.95" Kenwood® Motorized Tilt Touch Screen Stereo w/AM/FM/CD/DVD/Bluetooth/ MP3/USB - Remote Control - Phone Control - Siri Eyes Free - Android Auto & Apple® Car Play w/Navigation - Android Rapid Charge - Built in HD Radio - Wireless Music Browsing - Pandora - Spotify - Sirius/XM Ready (Requires Subscription) :

Kenwood® Radio Speakers - 6 1/2" :

Sirius/XM Satellite Radio Ready (Requires Subscription):

USB and Auxiliary Inputs:

Seat Belts Driver & Passenger - 3 Point w/Adjustable Straps:

Automotive Style Dash w/Dual Monitors and Work Station:

Pullout Storage Bin Center Dash :

Colored Fiberglass Engine Cover w/Snack Tray:

Auto Leveling Jacks Controls:

Driver/Passenger Center Table:

Hide-A-LoftTM Drop Down Queen Bed w/24" TV:

Sofa - Expandable L-Sofa:

Sofa - Tri-fold w/Facing Booth Dinette w/Dream Dinette:

Sofa - Expandable L-Sofa and Free-Standing Dinette w/Credenza:

Facing Booth Dinette w/Dream Dinette Table:

Free Standing Dinette w/Credenza:

Solid Surface Galley Top:

Surf-X Tops Throughout (Excluding Galley):

Feature Wall w/Accent Wall Covering:

Interior Flat Soft Touch Vinyl Ceiling:

Vinyl Tile Flooring Throughout:

Ozite Lined Cabinet Interiors:

Cedar Lined Wardrobe Interiors (Select Locations):

Full Extension Drawer Guides w/Latches Throughout:

Hidden Euro Hinges and Struts:

Panel Cabinet Doors Solid Wood Raised :

Ceiling Treatment Solid Wood :

Slideout Fascia - Interior Wood Color Coordinating :

Window Valances w/Lambrequins and Wood Accents:

Manual Day/Night Roller Shades:

Energy Efficient 3" LED Flush Mount Ceiling and Under Cabinet Reading Lights Throughout:

Slideouts Flush Floor Living :

Faucets, Fixtures and Hardware, Brushed Nickle :

Interior Entry Grab Handle - Metal:

Multiplex Electric Controls w/App Control:

Entry Door Manual Roller Shade:

Solid Surface Entry Steps w/Lighted Stepwell:

Residential Refrigerator - Stainless Steel French Door Style w/Icemaker - Samsung:

Cooktop w/Solid Surface Covers 3-Burner :

Range w/Oven 3-Burner Drop-In :

Microwave Stainless Steel Over the Range Convection :

Large Galley Window w/Tiled Window Box:

Deep Double Bowl Undermount Stainless Steel Sink:

Solid Surface Sink Covers:

Faucet w/Pullout Sprayer Residential Single Handle :

Adjustable Shelves Throughout:

Power Ceiling Vent - Fantastic:

Manual Night Roller Shade:

King Memory Foam Mattress:

Bunk Beds (Mutli-purpose Flip Bunk for Wardrobe and Seating w/Doors):

Designer Bedspread, Headboard, Pillow Shams & Pillows:

C-PAP Machine Prep in Bedroom Overhead:

Top Mounted Porcelain Sink:

Top Mounted Stainless Steel Sink:

Single Handle Residential Faucet:

Medicine Cabinet w/Mirror:

Fiberglass Shower Surround:

Metal Shower Head w/Sliding Adjustable Bar, Soap Dish and Matching Single Valve Faucet:

Porcelain Macerator Toilet:

Porcelain VacuFlush Toilet:

Porcelain Standard Toilet:

Power Ceiling Vent - Fantastic:

40″ Flat Screen LED TV (Living Area):

32″ Flat Screen LED TV (Bedroom):

24″ Flat Screen LED TV (Bedroom):

24″ Flat Screen LED TV (Bunk Area):

24" Flat Screen LED TV (Front Overhead w/Hide-A-LoftTM Drop Down Bed):

Soundbar w/Blu-RayTM Player:

Exterior Entertainment Center w/40" LED TV, AM/FM/CD/DVD/BT, and Two Speakers:

Dual-Roof Mount Ducted 15,000-BTU A/C Units w/Chill Grill and Rear Heat Pump:

30,000/20,000 BTU Furnace :

Converter: 60 AMP Power Converter:

Inverter: Single 2000w Pure Sine:

WiFi RangerTM SkyPro Pack w/LTE and GPS:

Multiplex Wiring Control System w/7" Touchscreen Panel and App Control:

Auxiliary Batteries (4) 6V :

Battery Disconnect Switch Master :

Water Pump: 12V 3GPM High Capacity Shurflo Water Pump:

Water Pump: 12V 5.3GPM High Capacity AquaJet Water Pump:

Water Purification System (Whole Coach):

Water Heater Bypass System:

Cable TV/Satellite Hookup:

Black Holding Tank Flush System - San-T-Flush:

Single Location Monitor Panel w/LPG, Touch Sensor Tank Monitoring and Battery Readouts:

Fire Extinguisher, LP/CO and Smoke Detectors:

GFCI Receptacle in Exterior Storage:

Washer/Dryer Prep Combo :

Water Heater Bypass System:

50 AMP Shoreline Power Cord:

Ford F-53 Motorhome Chassis

Front suspension: Tapered Multi-Leaf:

Rear suspension: Tapered Multi-Leaf:

Power - 4 Wheel Disc (Hydro-boost) w/ABS:

Shock Absorbers - Bilstein™ 1.63-in. diameter:

Stabilizer Bar Front & Rear:

Front and Rear Aluminum Wheels:

Sumo Springs - Front/Rear:

Ford 6.8L Triton V10, 320 HP w/460 lb. Torque:

TorqShift® 6-Speed Automatic w/Overdrive and Tow/Haul Mode:

6V Heavy Duty Chassis Batteries:

Interior Storage (cu.ft.):

Basement Storage (cu.ft.):

Appliance Propane (gal) (WC):

Aluminum Welded Interlocking Frames:

Powerlock System - Interlocking Floor, Walls and Roof:

Dryseal Edge Coating for all Walls and Floors:

Vacu-Bond Aluminum Framed Constructed Roof, Sidewalls and Floor:

Premium Gel Exterior Vetrosina Fiberglass Skin (no wood substrate):

R-8 Insulated Sidewalls; R-10 Insulated Roof and R-9 Insulated Floor/Bead Foam Insulation:

Quiet Insulated, Ducted A/C System:

Full Pass Through Basement Storage w/Easy Clean Rotocast Compartments:

Basement Storage Lighting w/Master Switch:

Heated Fresh Water and Holding Tank Compartments:

Power Platform Chassis Construction:

Steel Constructed Entry Step Box:

Electric Main/Bedroom/Wardrobe/Kitchen Slide Out Systems:

Powder Coated Steel Frame Chassis Construction:

Full Coverage Heavy Duty Undercoating:

Aerodynamic Fiberglass Cap w/Automotive Headlighting:

Rear Fiberglass Cap w/Automotive Lighting:

TPO Roof - Thermoplastic Polyolefin :

Legless Electric Patio Awning w/LED lighting and Wind Sensor Retract:

Slide Out Awning Toppers Above All Slideouts:

Radiused Entry Door w/Screendoor, Latch, Deadbolt Lock:

Black Luggage Door Handles:

Entry Grab Handle - Acrylic Lighted:

Power Entry Step w/Light Exterior :

Bus-Style Luggage Doors Side Swing Aluminum :

Frameless Dual Pane Windows :

Front, Side and Rear Clearance and Marker lighting:

Gravity Fresh Water Fill:

Service Station - Water Pump Switch, Exterior Shower, Black Tank Flush, City Water Hookup & Drainage Valves:

Park Cable and Satellite Hookup Exterior :

Trailer Hitch w/7-Way Round Tow Connection (lbs.):

TV Antenna - Unidirectional King Controls Jack Antenna:

Four Point Fully Automatic Hydraulic Leveling Jacks:

4-Color Premier Full Body Paint w/Front Clear Mask:

King Universal Satellite System:

Automotive Windshield One-Piece :

Driver/Passenger Tinted Slider Windows:

Automotive Style Windshield Wiper System:

Remote Power/Heated Mirrors w/Turn Signals and Side Cameras - Black:

Driver Chair w/Reclining Back, Swivel and 6-way Power Controls:

Passenger Chair w/Manual Footrest, Reclining Back & Swivel:

Driver/Passenger ABS Style Armrests:

Driver/Passenger Cupholders :

Power Windshield Roller Shade:

Driver/Passenger Window Manual Roller Shades:

Driver/Passenger Overhead Map Flex Lighting:

Black Instrument Gauges w/Electronic Information Center:

Dash Air Conditioning and Heat High Output :

Cruise Control Electronic :

Windshield Wipers w/Delay:

Remote Switch for Power/Heated Mirrors:

Steering Wheel w/Tilt Column:

Color Monitor for Side and Rear Cameras - 6" :

Kenwood® 6.2" Stereo w/AM/FM/CD/DVD/Bluetooth/ MP3/USB - Phone Control - Android Rapid Charge - Built in HD Radio – Pandora - Spotify – iHeart radio - Sirius/XM Ready (Requires Subscription) Wireless Music Browsing – Dual Phone Connection – Remote App – Backup camera – Variable Color Illumination:

Collision Mitigation w/6.95" Kenwood® Motorized Tilt Touch Screen Stereo w/AM/FM/CD/DVD/Bluetooth/ MP3/USB - Remote Control - Phone Control - Siri Eyes Free - Android Auto & Apple® Car Play w/Navigation - Android Rapid Charge - Built in HD Radio - Wireless Music Browsing - Pandora - Spotify - Sirius/XM Ready (Requires Subscription) :

Kenwood® Radio Speakers - 6 1/2" :

Sirius/XM Satellite Radio Ready (Requires Subscription):

USB and Auxiliary Inputs:

Seat Belts Driver & Passenger - 3 Point w/Adjustable Straps:

Automotive Style Dash w/Dual Monitors and Work Station:

Pullout Storage Bin Center Dash :

Colored Fiberglass Engine Cover w/Snack Tray:

Auto Leveling Jacks Controls:

Driver/Passenger Center Table:

Hide-A-LoftTM Drop Down Queen Bed w/24" TV:

Sofa - Expandable L-Sofa:

Sofa - Tri-fold w/Facing Booth Dinette w/Dream Dinette:

Sofa - Expandable L-Sofa and Free-Standing Dinette w/Credenza:

Facing Booth Dinette w/Dream Dinette Table:

Free Standing Dinette w/Credenza:

Solid Surface Galley Top:

Surf-X Tops Throughout (Excluding Galley):

Feature Wall w/Accent Wall Covering:

Interior Flat Soft Touch Vinyl Ceiling:

Vinyl Tile Flooring Throughout:

Ozite Lined Cabinet Interiors:

Cedar Lined Wardrobe Interiors (Select Locations):

Full Extension Drawer Guides w/Latches Throughout:

Hidden Euro Hinges and Struts:

Panel Cabinet Doors Solid Wood Raised :

Ceiling Treatment Solid Wood :

Slideout Fascia - Interior Wood Color Coordinating :

Window Valances w/Lambrequins and Wood Accents:

Manual Day/Night Roller Shades:

Energy Efficient 3" LED Flush Mount Ceiling and Under Cabinet Reading Lights Throughout:

Slideouts Flush Floor Living :

Faucets, Fixtures and Hardware, Brushed Nickle :

Interior Entry Grab Handle - Metal:

Multiplex Electric Controls w/App Control:

Entry Door Manual Roller Shade:

Solid Surface Entry Steps w/Lighted Stepwell:

Residential Refrigerator - Stainless Steel French Door Style w/Icemaker - Samsung:

Cooktop w/Solid Surface Covers 3-Burner :

Range w/Oven 3-Burner Drop-In :

Microwave Stainless Steel Over the Range Convection :

Large Galley Window w/Tiled Window Box:

Deep Double Bowl Undermount Stainless Steel Sink:

Solid Surface Sink Covers:

Faucet w/Pullout Sprayer Residential Single Handle :

Adjustable Shelves Throughout:

Power Ceiling Vent - Fantastic:

Manual Night Roller Shade:

King Memory Foam Mattress:

Bunk Beds (Mutli-purpose Flip Bunk for Wardrobe and Seating w/Doors):

Designer Bedspread, Headboard, Pillow Shams & Pillows:

C-PAP Machine Prep in Bedroom Overhead:

Top Mounted Porcelain Sink:

Top Mounted Stainless Steel Sink:

Single Handle Residential Faucet:

Medicine Cabinet w/Mirror:

Fiberglass Shower Surround:

Metal Shower Head w/Sliding Adjustable Bar, Soap Dish and Matching Single Valve Faucet:

Porcelain Macerator Toilet:

Porcelain VacuFlush Toilet:

Porcelain Standard Toilet:

Power Ceiling Vent - Fantastic:

40″ Flat Screen LED TV (Living Area):

32″ Flat Screen LED TV (Bedroom):

24″ Flat Screen LED TV (Bedroom):

24″ Flat Screen LED TV (Bunk Area):

24" Flat Screen LED TV (Front Overhead w/Hide-A-LoftTM Drop Down Bed):

Soundbar w/Blu-RayTM Player:

Exterior Entertainment Center w/40" LED TV, AM/FM/CD/DVD/BT, and Two Speakers:

Dual-Roof Mount Ducted 15,000-BTU A/C Units w/Chill Grill and Rear Heat Pump:

30,000/20,000 BTU Furnace :

Converter: 60 AMP Power Converter:

Inverter: Single 2000w Pure Sine:

WiFi RangerTM SkyPro Pack w/LTE and GPS:

Multiplex Wiring Control System w/7" Touchscreen Panel and App Control:

Auxiliary Batteries (4) 6V :

Battery Disconnect Switch Master :

Water Pump: 12V 3GPM High Capacity Shurflo Water Pump:

Water Pump: 12V 5.3GPM High Capacity AquaJet Water Pump:

Water Purification System (Whole Coach):

Water Heater Bypass System:

Cable TV/Satellite Hookup:

Black Holding Tank Flush System - San-T-Flush:

Single Location Monitor Panel w/LPG, Touch Sensor Tank Monitoring and Battery Readouts:

Fire Extinguisher, LP/CO and Smoke Detectors:

GFCI Receptacle in Exterior Storage:

Washer/Dryer Prep Combo :

Water Heater Bypass System:

50 AMP Shoreline Power Cord:

Ford F-53 Motorhome Chassis

Front suspension: Tapered Multi-Leaf:

Rear suspension: Tapered Multi-Leaf:

Power - 4 Wheel Disc (Hydro-boost) w/ABS:

Shock Absorbers - Bilstein™ 1.63-in. diameter:

Stabilizer Bar Front & Rear:

Front and Rear Aluminum Wheels:

Sumo Springs - Front/Rear:

Ford 6.8L Triton V10, 320 HP w/460 lb. Torque:

TorqShift® 6-Speed Automatic w/Overdrive and Tow/Haul Mode:

6V Heavy Duty Chassis Batteries:

Interior Storage (cu.ft.):

Basement Storage (cu.ft.):

Appliance Propane (gal) (WC):

Aluminum Welded Interlocking Frames:

Powerlock System - Interlocking Floor, Walls and Roof:

Dryseal Edge Coating for all Walls and Floors:

Vacu-Bond Aluminum Framed Constructed Roof, Sidewalls and Floor:

Premium Gel Exterior Vetrosina Fiberglass Skin (no wood substrate):

R-8 Insulated Sidewalls; R-10 Insulated Roof and R-9 Insulated Floor/Bead Foam Insulation:

Quiet Insulated, Ducted A/C System:

Full Pass Through Basement Storage w/Easy Clean Rotocast Compartments:

Basement Storage Lighting w/Master Switch:

Heated Fresh Water and Holding Tank Compartments:

Power Platform Chassis Construction:

Steel Constructed Entry Step Box:

Electric Main/Bedroom/Wardrobe/Kitchen Slide Out Systems:

Powder Coated Steel Frame Chassis Construction:

Full Coverage Heavy Duty Undercoating:

Aerodynamic Fiberglass Cap w/Automotive Headlighting:

Rear Fiberglass Cap w/Automotive Lighting:

TPO Roof - Thermoplastic Polyolefin :

Legless Electric Patio Awning w/LED lighting and Wind Sensor Retract:

Slide Out Awning Toppers Above All Slideouts:

Radiused Entry Door w/Screendoor, Latch, Deadbolt Lock:

Black Luggage Door Handles:

Entry Grab Handle - Acrylic Lighted:

Power Entry Step w/Light Exterior :

Bus-Style Luggage Doors Side Swing Aluminum :

Frameless Dual Pane Windows :

Front, Side and Rear Clearance and Marker lighting:

Gravity Fresh Water Fill:

Service Station - Water Pump Switch, Exterior Shower, Black Tank Flush, City Water Hookup & Drainage Valves:

Park Cable and Satellite Hookup Exterior :

Trailer Hitch w/7-Way Round Tow Connection (lbs.):

TV Antenna - Unidirectional King Controls Jack Antenna:

Four Point Fully Automatic Hydraulic Leveling Jacks:

4-Color Premier Full Body Paint w/Front Clear Mask:

King Universal Satellite System:

Automotive Windshield One-Piece :

Driver/Passenger Tinted Slider Windows:

Automotive Style Windshield Wiper System:

Remote Power/Heated Mirrors w/Turn Signals and Side Cameras - Black:

Driver Chair w/Reclining Back, Swivel and 6-way Power Controls:

Passenger Chair w/Manual Footrest, Reclining Back & Swivel:

Driver/Passenger ABS Style Armrests:

Driver/Passenger Cupholders :

Power Windshield Roller Shade:

Driver/Passenger Window Manual Roller Shades:

Driver/Passenger Overhead Map Flex Lighting:

Black Instrument Gauges w/Electronic Information Center:

Dash Air Conditioning and Heat High Output :

Cruise Control Electronic :

Windshield Wipers w/Delay:

Remote Switch for Power/Heated Mirrors:

Steering Wheel w/Tilt Column:

Color Monitor for Side and Rear Cameras - 6" :

Kenwood® 6.2" Stereo w/AM/FM/CD/DVD/Bluetooth/ MP3/USB - Phone Control - Android Rapid Charge - Built in HD Radio – Pandora - Spotify – iHeart radio - Sirius/XM Ready (Requires Subscription) Wireless Music Browsing – Dual Phone Connection – Remote App – Backup camera – Variable Color Illumination:

Collision Mitigation w/6.95" Kenwood® Motorized Tilt Touch Screen Stereo w/AM/FM/CD/DVD/Bluetooth/ MP3/USB - Remote Control - Phone Control - Siri Eyes Free - Android Auto & Apple® Car Play w/Navigation - Android Rapid Charge - Built in HD Radio - Wireless Music Browsing - Pandora - Spotify - Sirius/XM Ready (Requires Subscription) :

Kenwood® Radio Speakers - 6 1/2" :

Sirius/XM Satellite Radio Ready (Requires Subscription):

USB and Auxiliary Inputs:

Seat Belts Driver & Passenger - 3 Point w/Adjustable Straps:

Automotive Style Dash w/Dual Monitors and Work Station:

Pullout Storage Bin Center Dash :

Colored Fiberglass Engine Cover w/Snack Tray:

Auto Leveling Jacks Controls:

Driver/Passenger Center Table:

Hide-A-LoftTM Drop Down Queen Bed w/24" TV:

Sofa - Expandable L-Sofa:

Sofa - Tri-fold w/Facing Booth Dinette w/Dream Dinette:

Sofa - Expandable L-Sofa and Free-Standing Dinette w/Credenza:

Facing Booth Dinette w/Dream Dinette Table:

Free Standing Dinette w/Credenza:

Solid Surface Galley Top:

Surf-X Tops Throughout (Excluding Galley):

Feature Wall w/Accent Wall Covering:

Interior Flat Soft Touch Vinyl Ceiling:

Vinyl Tile Flooring Throughout:

Ozite Lined Cabinet Interiors:

Cedar Lined Wardrobe Interiors (Select Locations):

Full Extension Drawer Guides w/Latches Throughout:

Hidden Euro Hinges and Struts:

Panel Cabinet Doors Solid Wood Raised :

Ceiling Treatment Solid Wood :

Slideout Fascia - Interior Wood Color Coordinating :

Window Valances w/Lambrequins and Wood Accents:

Manual Day/Night Roller Shades:

Energy Efficient 3" LED Flush Mount Ceiling and Under Cabinet Reading Lights Throughout:

Slideouts Flush Floor Living :

Faucets, Fixtures and Hardware, Brushed Nickle :

Interior Entry Grab Handle - Metal:

Multiplex Electric Controls w/App Control:

Entry Door Manual Roller Shade:

Solid Surface Entry Steps w/Lighted Stepwell:

Residential Refrigerator - Stainless Steel French Door Style w/Icemaker - Samsung:

Cooktop w/Solid Surface Covers 3-Burner :

Range w/Oven 3-Burner Drop-In :

Microwave Stainless Steel Over the Range Convection :

Large Galley Window w/Tiled Window Box:

Deep Double Bowl Undermount Stainless Steel Sink:

Solid Surface Sink Covers:

Faucet w/Pullout Sprayer Residential Single Handle :

Adjustable Shelves Throughout:

Power Ceiling Vent - Fantastic:

Manual Night Roller Shade:

King Memory Foam Mattress:

Bunk Beds (Mutli-purpose Flip Bunk for Wardrobe and Seating w/Doors):

Designer Bedspread, Headboard, Pillow Shams & Pillows:

C-PAP Machine Prep in Bedroom Overhead:

Top Mounted Porcelain Sink:

Top Mounted Stainless Steel Sink:

Single Handle Residential Faucet:

Medicine Cabinet w/Mirror:

Fiberglass Shower Surround:

Metal Shower Head w/Sliding Adjustable Bar, Soap Dish and Matching Single Valve Faucet:

Porcelain Macerator Toilet:

Porcelain VacuFlush Toilet:

Porcelain Standard Toilet:

Power Ceiling Vent - Fantastic:

40″ Flat Screen LED TV (Living Area):

32″ Flat Screen LED TV (Bedroom):

24″ Flat Screen LED TV (Bedroom):

24″ Flat Screen LED TV (Bunk Area):

24" Flat Screen LED TV (Front Overhead w/Hide-A-LoftTM Drop Down Bed):

Soundbar w/Blu-RayTM Player:

Exterior Entertainment Center w/40" LED TV, AM/FM/CD/DVD/BT, and Two Speakers:

Dual-Roof Mount Ducted 15,000-BTU A/C Units w/Chill Grill and Rear Heat Pump:

30,000/20,000 BTU Furnace :

Converter: 60 AMP Power Converter:

Inverter: Single 2000w Pure Sine:

WiFi RangerTM SkyPro Pack w/LTE and GPS:

Multiplex Wiring Control System w/7" Touchscreen Panel and App Control:

Auxiliary Batteries (4) 6V :

Battery Disconnect Switch Master :

Water Pump: 12V 3GPM High Capacity Shurflo Water Pump:

Water Pump: 12V 5.3GPM High Capacity AquaJet Water Pump:

Water Purification System (Whole Coach):

Water Heater Bypass System:

Cable TV/Satellite Hookup:

Black Holding Tank Flush System - San-T-Flush:

Single Location Monitor Panel w/LPG, Touch Sensor Tank Monitoring and Battery Readouts:

Fire Extinguisher, LP/CO and Smoke Detectors:

GFCI Receptacle in Exterior Storage:

Washer/Dryer Prep Combo :

Water Heater Bypass System:

50 AMP Shoreline Power Cord: